Leading food company JBS is offering free higher education opportunities to its team members and their families nationwide.
In May 2020, when food company JBS USA saw the social and economic toll the pandemic was taking on the rural communities where its team members live and work, it took immediate action. The company created Hometown Strong, a remarkable $100 million initiative designed to bring strength and stability to those communities by addressing food insecurity, investing in long-term infrastructure, and mobilizing COVID-19 relief efforts.
In 2021, Hometown Strong expanded its efforts and began to take a more holistic approach. When talking with community members to identify their needs, the leadership at JBS USA noticed a trend: There was an overwhelming desire on the part of their employees to pursue higher education. That's when the idea of JBS's education initiative, Better Futures, began to take root.
"Our CEO at the time, André Nogueira, saw Better Futures as a way to help team members and their families achieve their educational dreams, so that they would have an opportunity for social mobility within their communities, as well as employment mobility within the company," says Corey Friend, program manager for Better Futures.
To date, the program is an astounding success. Since its launch, JBS has partnered with 40 colleges in 23 states, from California to Pennsylvania, to provide tuition-free education to team members and their child dependents, many of which are first-generation American families. Enrollees can use the opportunity to pursue an associate's degree and/or trade certificates that will help them advance their careers. And while JBS anticipated that many of the enrollees would be dependents, approximately 65% of the 2,500-plus Better Futures enrollees are actually team members—and, according to Friend, that number is only growing.
"It's opening a lot of doors," Friend says. "We've got team members who started community college 15 or 20 years ago and then needed to stop their education for one reason or another. Now they're able to go back and get their degree."
Breaking down barriers
JBS USA works with its partner colleges to create more accommodating scheduling opportunities for team members, including the ability to take night or weekend courses and classes taught directly at a plant. At Northeast Wisconsin Technical College (NWTC) in Green Bay, students even have access to a success coach who mentors them along their journey.
"We are a very proactive institution—not reactive," says Dr. Colleen Simpson, vice president of student services at NWTC. "One of the things we pride ourselves on here is removing barriers."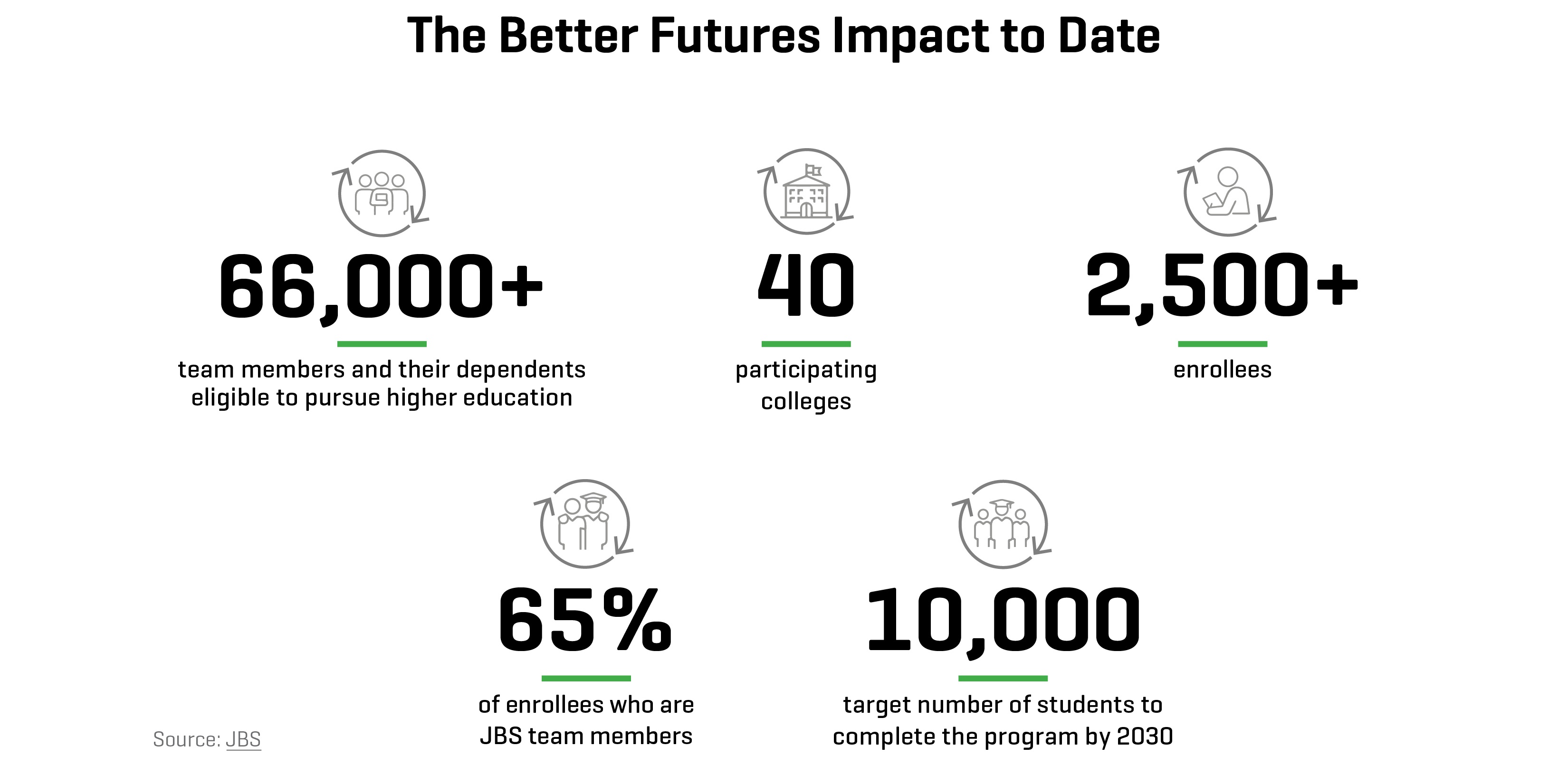 Making the path to higher education accessible means eliminating some of the most common obstacles that people in rural communities face, such as cost, time, and language barriers. Most students in Better Futures are paying less than $250 per semester, which covers general fees and text books, and team members who have had limited exposure to spoken or written English now have access to life-changing English as a second language (ESL) courses. By helping first- and second-generation Americans build their English proficiency, JBS USA isn't just breaking down language barriers—it is eliminating stigmas, empowering team members to enroll in college, and expanding their ability to interact within their local communities, making something as simple as going to the grocery store or attending church feel more achievable.
Empowerment through education
By leveraging the transformative power of education and building a more educated workforce, the program strives to strengthen communities, keep tuition dollars local, and support its community college partners.
"We are exposing a generation of students to new opportunities," says Simpson. "Together with JBS, we are creating the next generation of skilled workers for Northeast Wisconsin."
According to Friend, that transformation is already taking place. "We've got students right now who have completed courses in the Better Futures program who want to become police officers, emergency medical technicians, or teachers, and others who intend to either transfer to a four-year institution or go into public service. Our hope is that we'll have thousands of students and families achieve their associate's degrees or technical skill certificates, avoid student debt, and be able to serve their community or have mobility within JBS."
The pandemic has been hard on colleges, but Better Futures offers a mutually advantageous relationship in which colleges can build their enrollment and businesses can retain and support their workforce. To date, over 56% of NWTC's first-year cohort has been retained, and the college has started building out its higher wage program in areas such as manufacturing, engineering, and information technology. "We both have the same goal," says Simpson. "A viable, equitable workforce. In the end, our communities are richer for it."
Looking ahead, Better Futures is well on its way to becoming the largest privately funded free two-year college initiative in rural America. While the program's main focus in 2021 was building the academic side of the partnerships, Friend and his team are now beginning to examine how they can expand on their partnerships, such as building in ESL offerings at JBS facilities or offering additional professional development courses on computer skills and leadership training. Ultimately, the goal is to have 10,000 students complete the program by 2030. But the big picture remains.
"Our focus is trying to build out the opportunities and access to the program, and removing as many barriers as we can," says Friend. "The stronger we can make the partnership with these colleges, the stronger the communities are going to be. That's good for the communities, which is good for JBS."
Learn more about JBS' commitment to its communities, employees, and sustainability at JBSBringingMoreToTheTable.com.